Riding the current software defined data center (SDC) wave being led by the likes of VMware and software defined networking (SDN) also championed by VMware via their acquisition of Nicira last year, Software Defined Marketing (SDM) is in full force. HP being a player in providing the core building blocks for traditional little data and big data, along with physical, virtual, converged, cloud and software defined has announced a new compute, processor or server platform called the Moonshot 1500.
Software defined marketing aside,  there are some real and interesting things from a technology standpoint that HP is doing with the Moonshot 1500 along with other vendors who are offering micro server based solutions.
First, for those who see server (processor and compute) improvements as being more and faster cores (and threads) per socket, along with extra memory, not to mention 10GbE or 40GbE networking and PCIe expansion or IO connectivity, hang on to your hats.
Moonshot is in the model of the micro servers or micro blades such as what HP has offered in the past along with the likes of Dell and Sea Micro (now part of AMD). The micro servers are almost the opposite of the configuration found on regular servers or blades where the focus is putting more ability on a motherboard or blade.
With micro servers the approach support those applications and environments that do not need lots of CPU processing capability, large amount of storage or IO or memory. These include some web hosting or cloud application environments that can leverage more smaller, lower power, less performance or resource intensive platforms. For example big data (or little data) applications whose software or tools benefit from many low-cost, low power, and lower performance with distributed, clustered, grid, RAIN or ring based architectures can benefit from this type of solution.
What is the Moonshot 1500 system?
4.3U high rack mount chassis that holds up to 45 micro servers

Each hot-swap micro server is its own self-contained module similar to blade server

Server modules install vertically from the top into the chassis similar to some high-density storage enclosures

Compute or processors are Intel Atom S1260 2.0GHz based processors with 1 MB of cache memory

Single S0-DIMM slot (unbuffered ECC at 1333 MHz) supports 8GB (1 x 8GB DIMM) DRAM

Each server module has a single 2.5" SATA 200GB SSD, 500GB or 1TB HDD onboard

A dual port Broadcom 5720 1 Gb Ethernet LAn per server module that connects to chassis switches

Marvel 9125 storage controller integrated onboard each server module

Chassis and enclosure management along with ACPI 2.0b, SMBIOS 2.6.1 and PXE support

A pair of Ethernet switches each give up to six x 10GbE uplinks for the Moonshot chassis

Dual RJ-45 connectors for iLO chassis management are also included

Status LEDs on the front of each chassis providers status of the servers and network switches

Support for Canonical Ubuntu 12.04, RHEL 6.4, SUSE Linux  LES 11 SP2

Notice a common theme with moonshot along with other micro server-based systems and architectures?
If not, it is simple, I mean literally simple and flexible is the value proposition.
Simple is the theme (with software defined for marketing) along with low-cost, lower energy power demand, lower performance, less of what is not needed to remove cost.
Granted not all applications will be a good fit for micro servers (excuse me, software defined servers) as some will need the more robust resources of traditional servers. With solutions such as HP Moonshot, system architects and designers have more options available to them as to what resources or solution options to use. For example, a cloud or object storage system based solutions that does not need a lot of processing performance per node or memory, and a low amount of storage per node might find this as an interesting option for mid to entry-level needs.
Will HP release a version of their Lefthand or IBRIX (both since renamed) based storage management software on these systems for some market or application needs?
How about deploying NoSQL type tools including Cassandra or Mongo, how about CloudStack, OpenStack Swift, Basho Riak (or Riak CS) or other software including object storage, on these types of solutions, or web servers and other applications that do not need the fastest processors or most memory per node?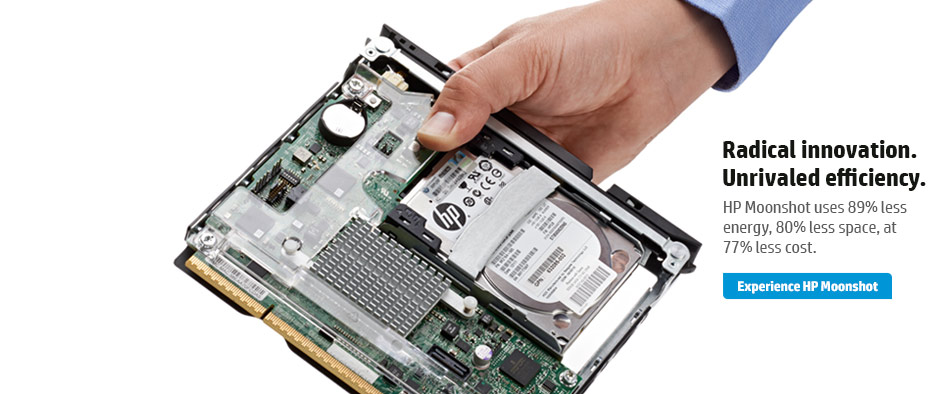 Thus micro server-based solutions such as Moonshot enable return on innovation (the new ROI) by enabling customers to leverage the right tool (e.g. hard product) to create their soft product allowing their users or customers to in turn innovate in a cost-effective way. 
Will the Moonshot servers be the software defined turnaround for HP, click here to see what Bloomberg has to say, or Forbes here.
Learn more about Moonshot servers at HP here, here or data sheets found here.
Btw, HP claims that this is the industries first software defined server, hmm.
Ok, nuff said (for now).
Cheers gs